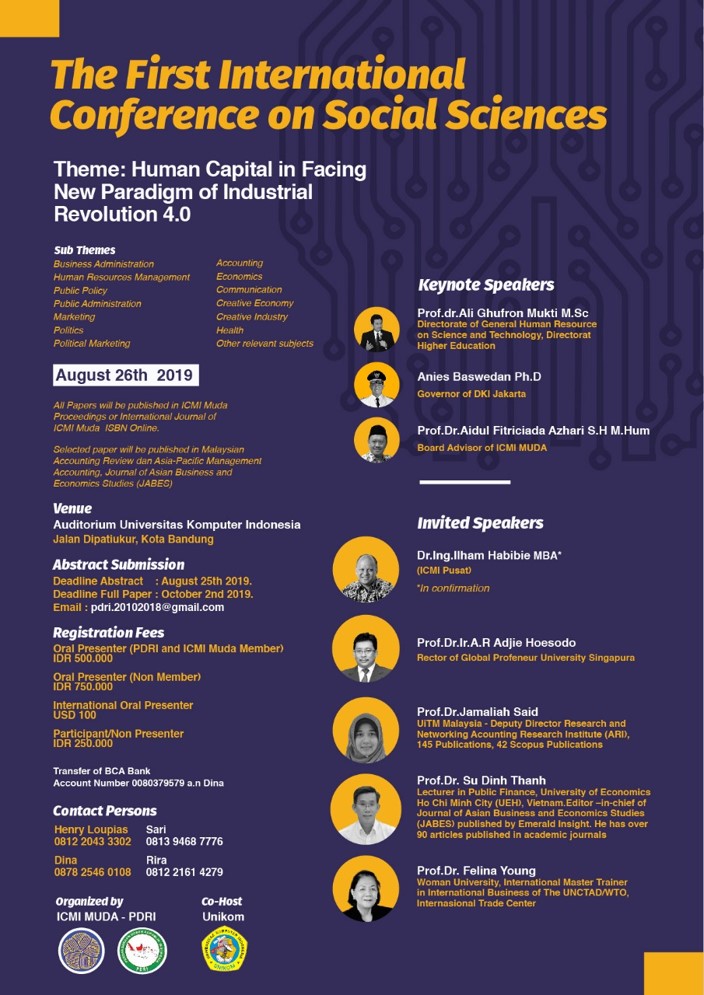 ICMI Muda and PDRI in association with International Relations Department of UNIKOM are pleased announce:
The First International Conference on Social Sciences (ICoSS) 2019
Theme : Human Capital in Facing New Paradigm of Industrial Revolution 4.0
Conference Date: August 26th, 2019
Venue: Auditorium Miracle Universitas Komputer Indonesia Lt.4 Jalan Dipatiukur No. 112-116, Coblong, Bandung- West Java Indonesia 40132
All Papers will be published in ICMI Muda Proceedings or International Journal of ICMI Muda & ISBN Online.
Registration: https://forms.gle/o4zobYpFArXShMQB9
Submission:
KEYNOTE SPEAKERS:
Prof.Dr. Aidul Fitriciada Azhari S.H M.Hum ( Board Advisor of ICMI MUDA )
Prof.dr.Ali Ghufron Mukti M.Sc ( Directorate of General Human Resource on Science and Technology, Directorat Higher Education)
Anis Baswedan P.hD (Governor of DKI Jakarta) *
INVITED SPEAKERS:
Prof.Dr.Ir.A.R Adjie Hoesodo ( Rector of Global Profeneur University Singapura)
Prof.Dr. Felina Young ( Fhilippine Woman University- International Master Trainer in International Business of The UNCTAD/WTO, International Trade Center)
Prof.Dr.Jamaliah Said ( UiTM Malaysia- Deputy Director Research and Networking Acounting Research Institute ( ARI), 145 Publications, 29 Scopus Publications)
Prof.Dr. Su Dinh Thanh is lecturer in Public Finance, University of Economics Ho Chi Minh City (UEH), Vietnam.Editor –in-chief of Journal of Asian Business and Economics Studies (JABES) published by Emerald Insight. He has over 90 articles published in academic journals
M. Ramesh-Professor Lee Kuan Yew School of Public Policy,National University of Singapore; UNESCO Chair of Social Policy Design in Asia
PUBLICATION FEES
Oral Presenter (PDRI and ICMI Muda Member) IDR 500.000
Oral Presenter (Non Member) IDR 750.000
International Oral Presenter USD 100
Participant/Non Presenter IDR 250.000
Transfer of BCA Bank, Account Number 0080379579 a.n Dina
Contact Persons :
Henry 0812-2043-3302
Sari 0813-9468-7776
Dina 087825460108
Rira. 081221614279
Best regards,
Dr.Dina S.IP M.Si
Chairman of 1st ICSS Conference
*In confirmation
Polls

Sorry, there are no polls available at the moment.